• Material: Canvas upper and heelpiece, rubber outsole.
• Switch Instruction: Press hidden switch button to switch on. Each press to the button with each different light mode.
Press the button for 12 times to turn the light off, or keep pressing for 3 seconds to turn off the power.
• Charge Instruction: Charge like your cell phone with Micro USB charging cable. (USB charging cable is not included in package).
Charging for 2 hours can provide 5 hours of lighting time.
• Light Model: Each light up shoe has 7 static colors and 5 color changing modes.
(Static colors: Red, Green, Blue, Yellow, Sky Blue, Purple, White).
• Note: Do not place shoes in water or it may damage the lighting system.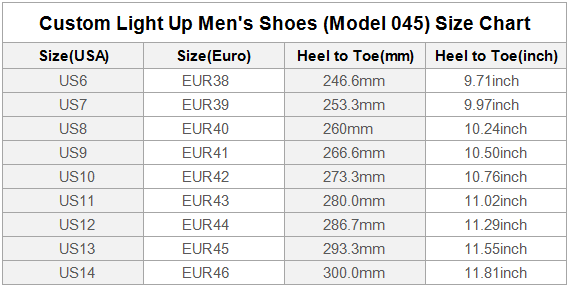 Production Time: 5-7 Days
US, UK, CA, AUS Delivery Time Estimates: 10-20 Days (EMS With Destination Tracking)
If an order has not been successfully delivered and it has been more than 45 days since the order was processed, we process a full refund and resend your order Free of Charge.
Returns & Refunds
If an item is damaged or is shipped with a poor-quality print, we replace the item at no additional cost.
If we ship the wrong product, we replace the item at no additional cost.
In the rare event, if you are unhappy with the fit of the shoe, we'll process a Free exchange at no additional cost.
We believe in 100% Customer Satisfaction. If for any reason, you are unhappy with your order, let us know. We'll make it right. Promise!